It's almost convention time! It's been a long time since we all saw each other last and we're so excited to finally welcome everyone back to Animazement. Lots of things will be just as you remember them, but we're also doing some things differently this year.
First off, if you're looking for our schedule of events, you can find it published in Guidebook.  Either scan the QR code to download the guide onto your phone, or use the web version found here.  While there will be printed program guides at the convention, they will not contain the most up-to-date information.   So in order to stay current, check the Guidebook regularly, or follow us on Facebook and Twitter to get the latest schedule changes.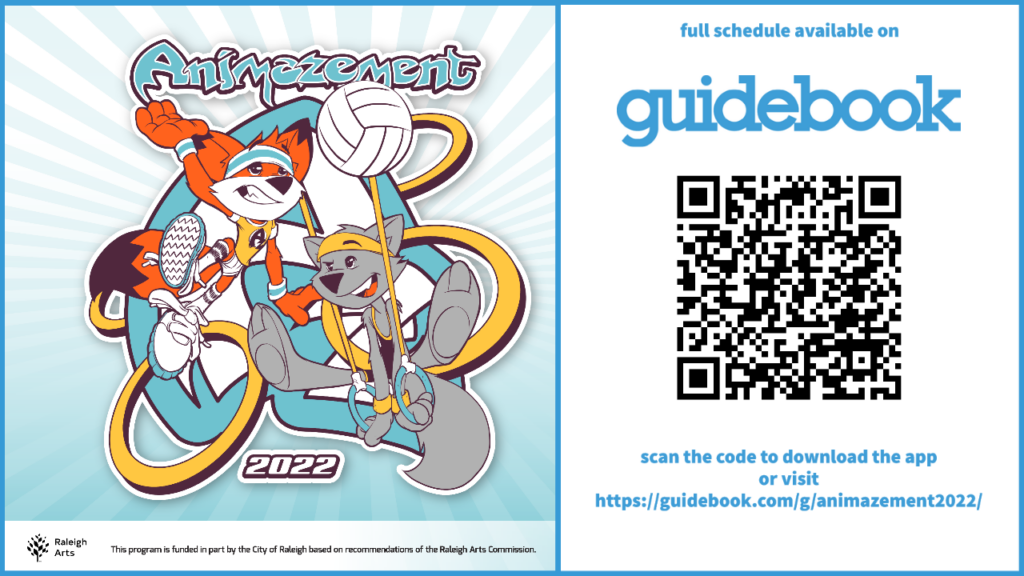 COVID Requirements
This year has required us to take on several requirements for the safety of our attendees. Please be sure you have read our COVID policy here, including the FAQ topics at the end.
Live Streaming on Twitch
We will be live streaming on our twitch channel AZTVOfficial all weekend long! Catch some of our panels and main events streamed live and stay tuned for exclusive live stream content. You never know who might stop by! Watch on your own devices or stop by and watch in Exhibit Hall C or outside room 402!
Autographs
In the past, the only way to get an autograph from your favorite guest was to go to one of their autograph sessions. But that's changing!
Autographs, posters, prints, etc, may be available for purchase from our guests directly at their booths in Exhibit Hall C. Guests will appear at their booths throughout the weekend when they are not otherwise involved in panels or events. During those times, you can meet your favorite guest, get autographs, and purchase merchandise. Prices and availability will vary.
If you do not wish to purchase autographs, each guest will also have one (1) hour long free autograph session. Those sessions are included in the schedule.
Please visit the "autographs" section of the General Hours tab in our Guidebook for additional information.
Karaoke Box
The karaoke room will be closed for AZ 2022, but we look forward to it returning in 2023! The Karaoke Contest is still on, though!
Late Night Dances
We will not be hosting our late night dances in 2022 and we look forward to them returning in 2023! In their place, we have planned a new special event! You can find more information elsewhere on our website.
Formal Dance
This year's formal dance will be hosted outside. The dress code and other formal policies still apply. We hope to return to hosting the formal indoors in 2023.
Tabletop Gaming
We will not have a tabletop gaming area in 2022. We look forward to this area returning in 2023.
New Panels and Events
It's not all about closing things down. We've got some new panels and events for you to enjoy in 2022!
Virtual Reality Experience
Want to try out some of the newest and best VR gear or just looking to try it for the first time? Stop by room 203 on the Mezzanine level and enjoy some of the best in virtual reality games!
AniManor Midnight Lounge
Looking for a casual place to hang out after a long, busy day at the con? AniManor Café presents their new Midnight Lounge. Join us on Saturday night for snacks and entertainment in a more laid back lounge atmosphere.
Late Night Special Event!